Vistara will be discontinued May 23rd 2023
Please note that we won't be able to do Panorama/Vistara May 18th-19th, May 27th-29th and June 3rd-5th 
We won't be able to do Evita May 17th-21st and June 3rd-5th
From week 9+0 and forward.
Vistara is not eligible for discount and cannot be done on Fridays after 15 pm.
Single gene disorders are caused by DNA changes in one particular gene, and often have predictable inheritance patterns. These are known as single gene disorders.
Vistara is the most comprehensive prenatal single-gene screening test for serious genetic conditions. These conditions affect quality of life, could benefit from early intervention, or could otherwise go undetected. Vistara can be combined with Panorama. A Panorama-test screens for conditions where there are too few or too many chromosomes and can tell you the baby's gender (optional). Chromosomes contain DNA and genes are made up of small pieces of DNA. Vistara screens for gene mutations. Vistara does not tell you the gender.
  Try our guide to see which NIPT test is right for you here.
Vistara tests for 25 serious genetic conditions with a blood draw from the mother.
The test takes 20-30 minutes regardless of the package you choose and always includes a scan, a print with the scan results, one color photo of your baby and all the images and clips from the scan in Tricefy. You can buy extra color photos at the price of dkk 20/pc. It depends on the fetus's age what we can see in the scan.
After the scan we will draw blood from your arm to fill two test tubes. You will need to sign a consent form (received in an e-mail after booking your appointment).
Please note: All samples are different and sometimes the lab needs extra time to analyze yours. This is usually not an indication that something's wrong but it can extend the turnaround time with some days.
Most results will be returned to your clinician within 2-3 weeks. We will call you with your test results and afterwards you will receive the results via encrypted e-mail.
In case the NIPT test cannot be performed due to fetal issues, or if you change your mind after receiving counseling, you will get charged for an Early Scan (not eligible for discount).
You can change your mind about which package you want up until the point of blood draw.
Prices:*
Vistara in combination with Panorama 1: DKK 10.500,- if both tests ar done on the same day
Vistara in combination with Panorama 2: DKK 11.500,- i

f both tests are done on the same day
Some scenarios where single-gene NIPT can be considered:
Couples with a male partner over 40-years-old (advanced paternal age). The background risk for the conditions on the Vistara panel are constant regardless of the mother's age but increases as the father gets older.
Ultrasound anomalies including shortened long bones and increased nuchal translucency
Family history of hereditary conditions
Patients who want as much information as possible
Vistara is a risk assessment, not a diagnostic test. If your test shows high risk for any of the conditions you have to follow up with a diagnostic test such as a placenta biopsy or an amniocentesis if you want to know if the baby actually has that condition. Such tests are not performed at our clinic.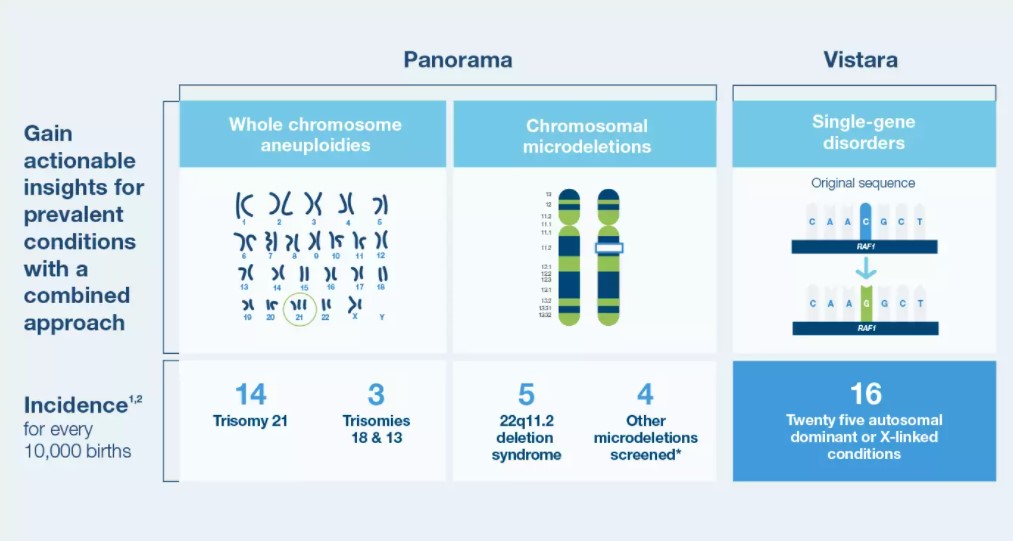 Vistara screens conditions with a combined incidence greater than Down syndrome and can be combined with Panorama.
No errors detected in clinical validation:
Vistara's clinical validation published in this article showed the following performance metrics:
>99% sensitivity (the ability to correctly identify a truly high risk case as high risk).
>99% specificity (the ability to correctly identify an unaffected case as low risk).
Make confident pregnancy management and early intervention decisions with performance you can trust.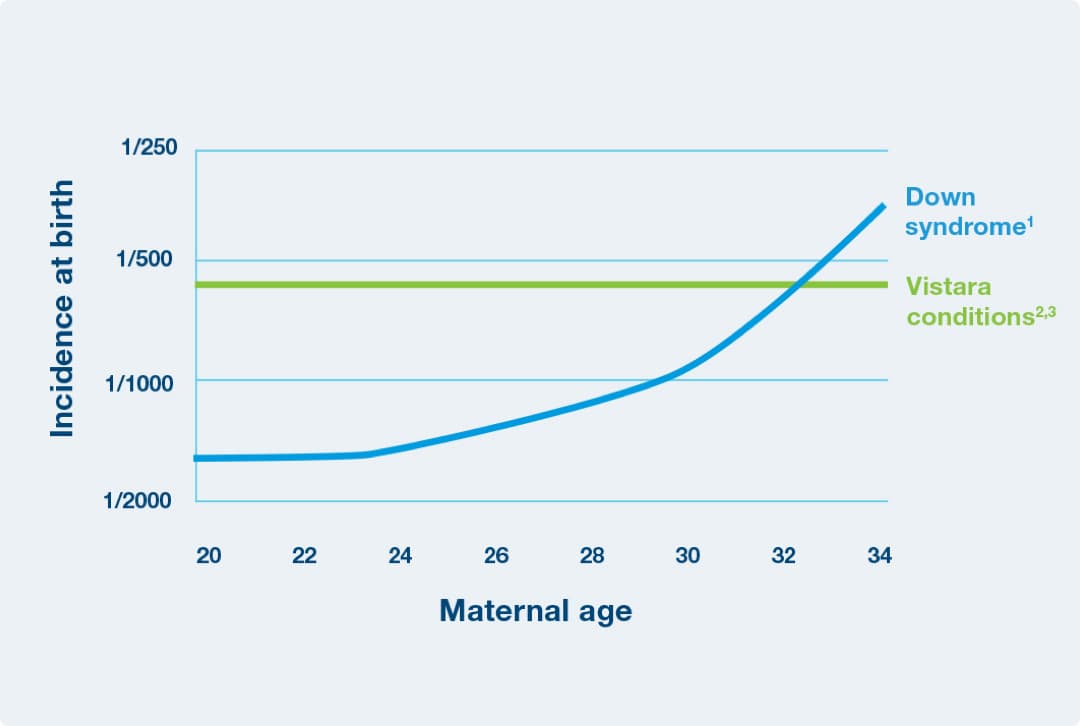 How does it work?
There are always pieces of genetic information (cell-free DNA) floating in our bloodstreams.
When a woman is pregnant, pieces of genetic information from the placenta (cell-free fetal DNA) are released into her bloodstream and mix with her own genetic information.
It is possible to test the mixture of DNA and determine if there is a high or low probability that the baby has certain single gene disorders.
Testing this cell-free fetal DNA is called non-invasive prenatal testing/screening, or "NIPT/NIPS" (non-invasive as all it requires is a standard blood sample from the mother's arm).
Fetal fraction (the proportion of DNA in the blood sample that comes from the pregnancy) can affect the accuracy of a NIPT test.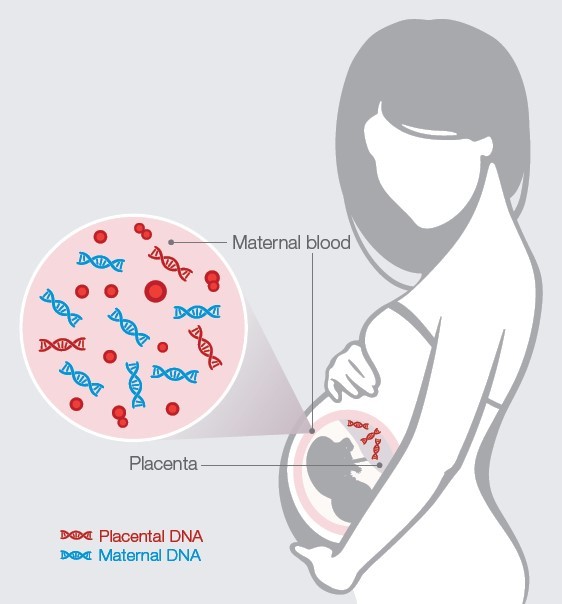 Pregnancies that are not eligible for Vistara:
Gestational age less than 9 weeks
If you are diagnosed with a genetic disorder on the panel, this

test will not provide a fetal risk assessment for that disorder

You or the fetus have a known mosaicism (mixture of normal and abnormal chromosomes in the mother, fetus or placenta)

There is a known balanced or unbalanced translocation on your chromosomes

You have been given organ transplantation

You have received stem cell therapy

You have experienced fetal demise, "vanishing twin" or reduction in your current pregnancy

You are expecting twins or more
*Prices are subject to change At Spire you will meet a professional team of sonographers. We do all types of pregnancy scans including 3D and 4D. We have the latest equipment ensuring great looking images with all scans.
We are registered with the Danish Patient Safety Authority.