3D PRINT
A 3D print of your baby's face is an extraordinary keepsake from your scan.
Please note that you need to have had a 3D scan before you can order a 3D print. The price of the print will be added to the price of the scan.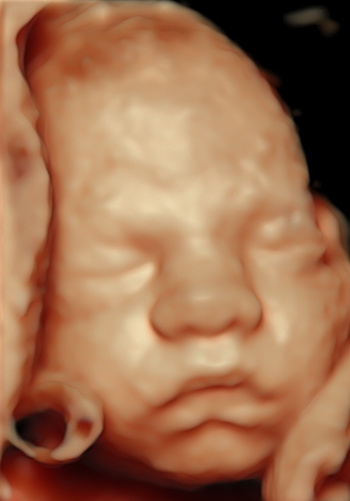 The prints are made from white PLA. The frame is 12,5 by 11 centimeters and is available in a wide range of colors including wood filament.
Introduction price: DKK 595,-*
(Regular price: DKK 795,-)
Delivery takes up to 2 weeks.
Please note: A very 'clean' 3D image is needed for a good result. If there are too many hands/feet/umbilical cord etc in front of the face, this will show up as a disturbance on the print. Consult with your sonographer before deciding on a 3D print.
PLA is a bio plastic made from plant starch (e.g. corn). Because of PLA's low melting point it is possible to use lower temperatures while printing than would normally be necessary if conventional plastic types based on oil were used. This ensures a decreased burden on the environment – both in the manufacturing of PLA and during the print process.
Read about the technology behind 3D printing here.
*Prices are subject to change At Spire you will meet a professional team of sonographers. We do all types of pregnancy scans including 3D and 4D. We have the latest equipment ensuring great looking images with all scans.
We are registered with the Danish Patient Safety Authority.